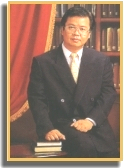 KG Lim - Founder

PT. Foreverindo Insanabadi (Forever Young Indonesia) was founded on 1 May 1989 in Jakarta, Indonesia, by KG Lim, a well experienced MLM practitioner and consultant with international exposure especially within the Asia-Pacific region. Trained in Behavioral Science in Management and Human Resources Management, KG Lim has devoted the last 25 years of his life as a trainer, motivator, consultant and entrepreneur to the MLM industry.

At the outset, it was determined that Forever Young Indonesia had to be an MLM company with a difference. It had to be a company with heart and soul. It had to be a company with dreams and ideals that larger than life.

So against such a background was born Forever Young Indonesia, an MLM company with a mission to enhance the quality of life and a philosophy to love and to serve, dedicating itself to the noble task of helping to eradicate mental and material poverty amongst the poor and under-privileged people though the vehicle of multi-level marketing.

The challenge for the company since its inception has always been on how to translate its mission and philosophy into a practical and believable proposition that would attract people to it and would make people want to embrace it as a way of life. Toward this end, we are proud to say that we have succeded in nurturing a whole new generation of distributors that are a product of such a proposition. We regard our distributors as a potent partnership in humanizing our corporate mission and philosophy so that they in turn can similarly reach out and expand ever outwards to touch the lives of many others who may never have the opportunity of bettering themselves and changing their destinies.

The vehicle that we offer to our distributors comes in the form of :

Superior quality products that enhance beauty and health that are in harmony with nature yet a priced within reach of the average wage earner.
A very fair, equitable and very rewarding marketing plan, the Forever Young International Income Plan (FYIIP).
An on-going, comprehensive and systematic training program to equip distributors with product knowledge, skills, attitudes and habits.
A multi-talented, people oriented management team structured to provide efficient and professional back up service to distributors.
Our greatest asset has always been PEOPLE - our distributors, our management and staff, our suppliers and associates. Presently, we have a network of distributors exceeding 120.000. Of this figure, 30 are Senior Network Directors, 51 are Network Directors, 246 are Junior Network Directors and 5917 are Network Managers. To service this large body of distributors we have 3 warehouses, 50 Stockists and 200 Distribution Centres strategically spread out throughout the vast Indonesian archipelago.

On the technology front Forever Young Indonesia breaks into new frontier, launching its E-Commerce in May 2001. This bold step is inevitable and we are optimistic that this will go a long way in speeding up our service to our distributors and customers on a wider scale.

God willing, we envisage that in the near future, we shall be progressing beyond the shores of Indonesia, bringing Forever Young to the shores of other friendly countries once compatible partners are found.

As a socially, responsible corporate citizen, Forever Young Indonesia is committed to social programs that bring benefit to the poor under privileged. We have always in our own small ways contributed to the alleviation of human suffering in society. Forever Young Indonesia is also a pioneer member in APLI, the Direct Selling Association of Indonesia. We have always supported the Association in its efforts to promote professionalism and ethical practices within our industry.

…Touching lives, enriching people …
What an exciting business !

| | |
| --- | --- |
| | Philosophy |
| | "We believe that life is to be enjoyed, people are to be loved, things are to be used and opportunities are to be shared. We believe that hearing and sharing is the best way towards progress, happiness and well-being in a free enterprise economy. In short, To Live Is To Love And To Serve." |